Messaging apps: 20 tricks to raise your chat game
hese secret tools should help you get the most out of Snapchat, iMessage, Facebook, Viber and Whatsapp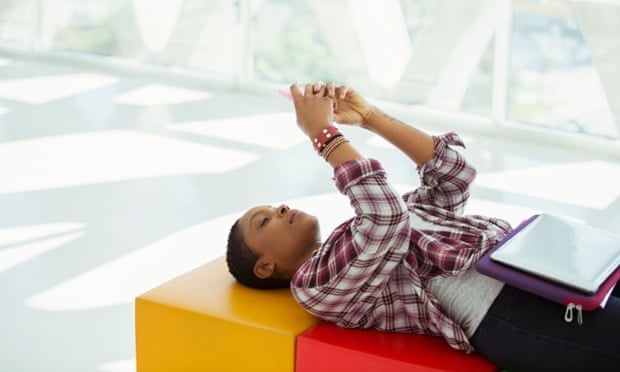 Facebook Messenger
1) Avoid using Messenger
Facebook has drawn the ire of its users by making it nigh-on impossible to not move over to the new Messenger app, which replaces the message functionality on the Facebook app itself. Now, when you click on messages, you are obliged to install Messenger, unless you're content to never send
Facebook
messages from your phone again.
The only workaround, for the time being, is to use the mobile browser version of Facebook. There have been suggestions that on iOS if you pause the installation of Messenger, or delete it after installation, you can continue to send messages the old way, but we found this didn't work.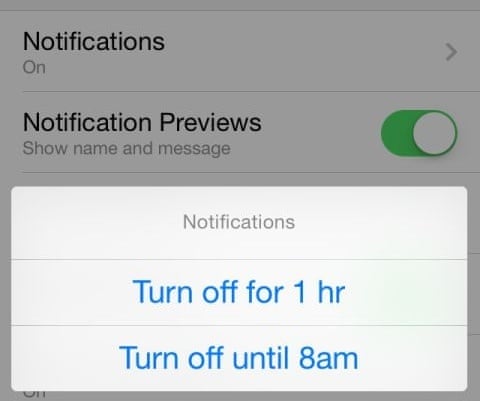 2) Silence that awful sound
Facebook Messenger has been controversial, to say the least. Not only are users irritated by being forced to use the app, the 'Ping!' notification can quickly become relentless when you're in a group conversation, for example.
This is harder to stop on iOS than on Android.
Head to Settings -> Notifications on iOS to can mute all conversations for either 1hr or until 8am, however long that may be. Alternatively head to a specific conversation and click the "i" on the top-right hand corner to mute for 1 hr, until 8am, or indefinitely. If you really want to nix any sounds from the Messenger app entirely, head to your iOS Settings -> Notification Center -> Messenger -> Sounds.
On Android you can simply head to Settings -> Notifications and customize notifications however you wish, including disabling that awful 'Ping!' To Mute specific conversations, select and hold the conversation in the 'Recents' tab, then click 'Mute notifications'.
3) Chat heads
You may want ready and easy access to particularly important Facebook Messenger conversations. Chat heads are small bubbles that remain on your phone's screen even after you leave the Messenger app, allowing you to click back into a conversation easily. To create a chat head, click and hold a conversation in the 'Recents' tab, then click 'Open chat head'. This is only available on Android.
4) See shared photos
Scrolling through reams and reams of messages to find that one photo someone sent two weeks ago is a pretty inefficient way of doing things. Facebook Messenger lets you see all the photos sent in a single conversation in a collated grid view, making the ordeal of finding an old photo much less painful. To go to the collated grid view on iOS, click the 'i' at the top right of a conversation ->
Photos (or in group chat, 'i' -> More -> See Photos). On Android, you will need to open a chat head, then click the three vertical dots on the top right -> See Shared Photos.
Viber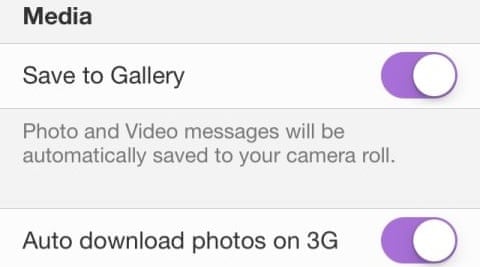 5) Don't auto download my photos please!
Use Viber for a short while and you will quickly find your phone filled with pictures and videos that you neither took nor saved yourself. This is because Viber, like WhatsApp, automatically downloads and saves any images you receive. To end this multimedia tyranny, on iOS, click 'More' on the bottom right of the screen -> Settings -> Media. On Android, it's in the same location: Menu -> Settings -> Media.
6) Be more private
By default, your contacts can see when you were last active on Viber and if you have read their message. The obvious result being if you're actively avoiding someone, they can probably tell. You can easily disable both of these functions. On iOS, click 'More' on the bottom right of the screen -> Settings -> Privacy. You will also be able to block contacts from this menu. On Android, it's in the same location: Menu -> Settings -> Privacy.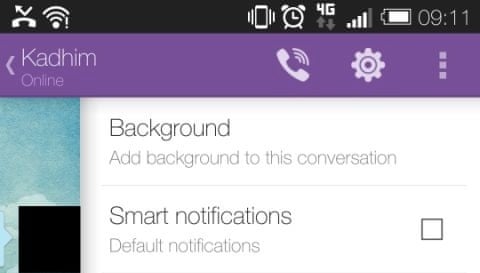 7) Smarter notifications
If you are receiving a particularly large amount of messages from someone, but don't want to be buzzed every time, Viber has the option to enable 'Smart Notifications'. When this is on, you will receive notifications for the first one or two texts, but messages from your contact immediately after won't buzz your phone. Sadly this function is only available on Android. Select a conversation, then swipe left. A menu will appear with an option for 'Smart Notifications'
WhatsApp
8) More private messaging
WhatsApp is similar to Viber in many ways, including in the fact that it lets your contacts see when you were last in the app, hardly ideal if you're slow at replying to messages or just plain don't want to talk to someone. Disabling this feature is straightforward. On iOS, within the app, head to Settings -> Account -> Privacy. You can also block numbers from this menu. On Android the process is the same. Head to Settings -> Account -> Privacy. In the same menu, on iOS and Android, you can block contacts who you no longer want to be able to message you.
9) Don't autosave media
Again, just like Viber, WhatsApp will save all images and videos you receive to your phone, clogging up your photos with content you didn't explicitly want to be there. To disable this go to Settings -> Chat Settings -> Save Incoming Media. On Android this option is found in the same place: Settings -> Chat Settings -> Media Auto Download -> Data.
SnapChat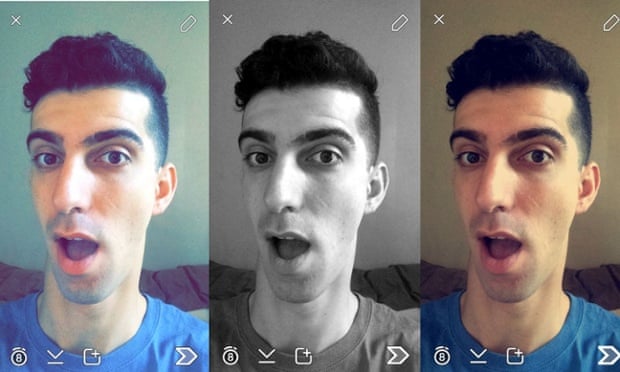 10) Fun Filters
Everyone knows you can doodle on your Snapchats, it's a core premise of the messaging app. But you can also add filters to your photos, giving them the look and feel of Instagram photos. To enable filters, click the clear square at the bottom left of the screen when you open the app, then click the cog at the top right hand of the screen to enter Settings -> Manage -> Filters. You will need to give
Snapchat
your location data. Then when you take a photo, simply swipe left and right to add filters.
Snapchat also has location-based filters, which are special overlays that only appear when you're in certain places. So far it appears they only work in the US, at famous locations in New York, for example, and at attractions like Disneyland.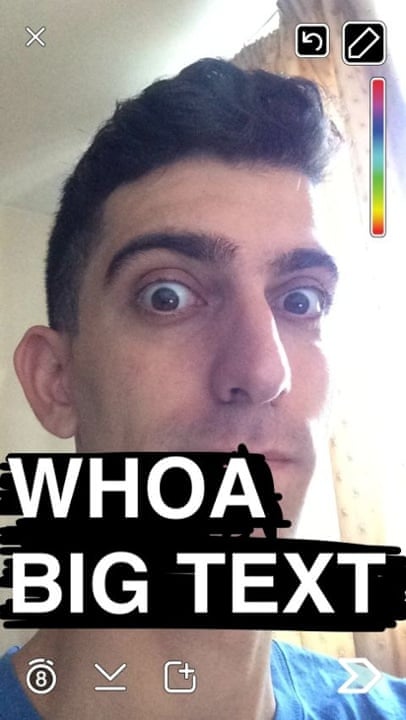 11) Embiggen text
In the same menu as 'Filters' is 'Special Text', which allows you to enlargen the text you send. While this might seem rather mundane, it offers new opportunities for creativity when mixed with emojis, which can also be enlargened. Once this feature is enabled by going to Settings -> Manage, you will see a large 'T' in the top right hand corner whenever you type text into your Snapchats.
12) Black and white
The ordinary colour palette on Snapchat is rather limited, conspicuously lacking white or black. But a simple trick will let you access a whole range of new colours and tones. When you select the pen tool, tap and hold the colour bar. Instead of swiping up and down, instead swipe left and upward to the opposite side of the screen. Here you'll find white. Swipe down to the bottom of the screen and you'll find black. In between, you'll find varying shades of the default colours. On Android you can even paint transparently: tap and hold on the colour bar until the full palette appears, then select the transparent colour.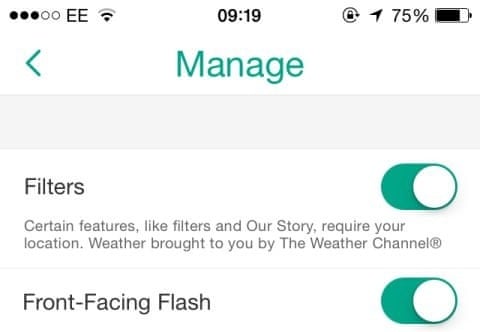 13) Front facing flash
Few if any smartphones have a flash for the front-facing camera (that's the one you use for selfies, by the way). But Snapchat has a nifty way of recreating the flash effect even in the absence of a physical flash. When taking a photo with the front-facing camera, Snapchat will force the screen to flash all white at the instant the photo is captured. The blast of light created is basically equivalent to a flash. To enable this, go to Settings -> Manage -> Front-Facing Flash. On the same menu you'll have options to enable replaying people's Snapchats and 'Special' (read 'Larger') text.
14) Stop chat messages from disappearing
Snapchat used to be a simple photosharing app, but in May this year it introduced a text chat function. Now when you exchange snaps with someone, you can also swipe right on their name to bring up a chat box that works in the same way as any other instant messaging app. There's one crucial difference, the text disappears as soon as you close the chat box, which can quickly become frustrating if you're exchanging information you need to remember. To stop this from happening, simply tap on the message you want to save – it will become highlighted in grey and won't be deleted until you un-highlight it again by tapping it.
iMessage
15) Switch Off Read Receipts
Let's start with the simple stuff: read receipts. When you're a messaging a friend, these appear underneath their messages on their end of the conversation, showing them if you have opened the chat and seen their message, which means they know exactly how long you took to reply. This can be disabled by heading to iOS Settings -> Messages -> Send Read Receipts
16) Send texts from your computer
If you are working hard at your laptop, you may not want to break your flow to check messages on your phone. Download the Messages app for Mac and you will be able to have iMessage chats from your computer. Better still, with the new OS X Yosemite, you're not just restricted to iMessages, you can also send SMS.
17) GIFs!
Animated GIFs are those short, looping, often hilarious, videos that dominate much of the web's less serious communication. Although it may not the most important feature that the iPhone has to offer, iMessage supports animated GIFs. Send one to your friend and it will automatically play in your conversation thread. To send an GIF with iMessage, save a GIF to your Photos in the same way you would an ordinary picture, then during an iMessage conversation, click the Camera icon and 'Choose Existing'. Alternatively, you can enter the 'Photos' app, click the GIF, select the box with the upward arrow at the bottom left of the screen, then select 'Message'.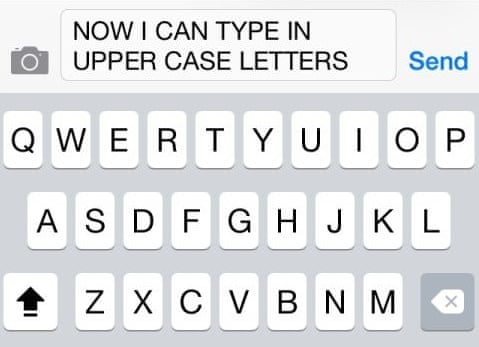 18) Write in capital letters
Sending long messages, emails, Facebook posts or tweets in all-caps is widely regarded as obnoxious, but that doesn't mean it doesn't have its place. This is more of a general keyboard trick for iOS, than specific to iMessage; it will work for all of the apps here. The shift key on the iOS keyboard switches between upper and lower case, but annoyingly it only allows you to type one capital letter before you have to tap it again. Alternatively, you can hold it down, which makes typing difficult. But if you double tap the key, it will go into all caps mode, allowing you to type in upper case continually. To go back to lower case, simply tap the key again.
19) View time stamps
iMessage hides the time stamps for messages by default (the same is true for iOS texts generally). Instead of showing the time of each text, it simply shows when a session of texts begun. Swipe left on a conversation, however, and you will be able to see the time of each and every text.

20) Emojis!
Emojis are a fun way of communicating in shorthand online, replacing text-based communication with a visual language that is broad enough to let you say almost anything, but restrictive enough to force you to be creative about how you construct messages. There are cute little illustrated icons to represent everything from facial expressions, to landmarks, to fruit. You could think of them as hieroglyphics. To enable emojis in iMessage (and for the keyboard generally across all apps on iOS), go to iOS Settings -> General -> Keyboard -> Keyboards -> 'Add New Keyboard' -> Emoji. On Android phones, emojis are active by default. Simply click the smiley face on the bottom left of the keyboard. Some of the emojis are slightly different on Android. For example, the dancing lady emoji on iOS is a dancing man on Android.